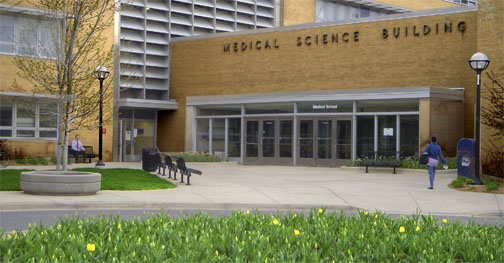 DVD Release of University of Michigan Medical School 2008 Commencement Ceremony

W. Cardone Productions has produced a fully interactive menu driven DVD capturing the U of M Medical School Commencement Ceremony of May 9th, 2008.

Click here to view the commencement trailer which was put online June 23!

SCROLL DOWN FOR DETAILS: (See dotted line at right for scrolling.)
The DVD captures the people, the sights, the sounds, and memories dear to the hearts of friends and family from that day. Many of these scenes were assembled in the days leading up to commencement from around the medical campus. At 'the Hill' on commencement day before the students and faculty arrived we captured the ambiance of a quiet auditorium fully prepared for commencement. Once students began to arrive we spent time with them as they robbed in preparation for the ceremony. After the ceremony we attended the Dean's reception recording for generations much of the joy so fully present.

During commencement used cameras from three perspectives simultaneously for a viewing available to no one human that day. Sorry, for contractual reasons we were not able to record any portion of the keynote speaker's address.

The end result is a fully interactive menu-driven DVD that engages the viewer and that loved ones will cherish for generations.

All DVDs are burned using professional media generally not available in the consumer market. This assures a longevity on the order of many decades. In addition, we choose transcoding parameters and burning techniques that assure maximum playability among DVD players. The printed surface of the disk is also water resistant to assure that the beautifully designed full color label will be stunning even many years from now.

Archival DVDs are available for $25 when you purchase a regular DVD (limit: one per order). These are manufactured with a 24ct gold reflective layer and are specified by the manufacturer to be reliable for 300 years. In addition, the optical surface is especially resistant to scratches. When you order at least two regular DVDs, an archival DVD is included at no additional charge. The label on these will be text only.

When you order three or more regular DVDs, at no additional charge the graduate's name and a custom message (twenty-five word maximum) and photo are printed on the disk. You may supply a photo or we may be able to capture a favorable image from our high definition video. Click here to view samples of artistic menus that we have done in the past for other clients.